Meet two of our members of the Small Wind Coop and find out more about why they joined.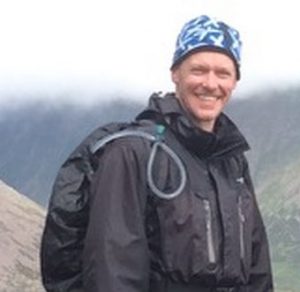 Neil Barnes, Linlithgow, Scotland
Neil is Communities Manager with Warmworks, the national agency helping to deliver warmer homes in Scotland and is an active participant in his local energy group, Linlithgow Natural Grid. He is married to Pamela, who works for the Linlithgow Community Trust, and they have two young daughters.
Neil is the 100th person to join the Small Wind Co-op and was inspired by his friends from Wemyss Bay and their determination to help get the project off the ground. He explains his motivation: "We both want our girls to live in a greener, more sustainable place. This sort of investment in Small Wind is hopefully just the start of something that will secure all our energy futures. Slowly but surely, we are paving the way to more beneficial energy systems for our local communities. Lowering carbon emissions and generating revenue to be kept in the local economy to build resilience."
"Community energy share offers like Small Wind are regularly providing solid returns of 4-5% across the EU. We believe that these alternatives are more robust and sustainable for our families and communities than business as usual, and we want to plug both the economic and environmental deficits that so many of us are trying to overcome. Positive projects like this are needed across the UK and we're pleased to be part of the Small Wind Co-op's success."
Howard Yardy, Ceredigion, Wales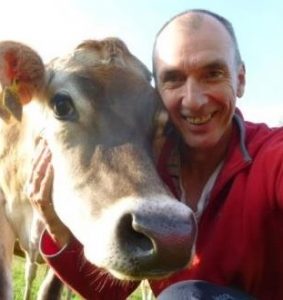 My partner Helen and I "retired" to take up smallholding. I have never worked so hard in all my life.  We have lived on our 8 acre smallholding in Llangeitho for 11 years and are mostly self sufficient in fruit, vegetables and meat. We are keen environmentalists and climate change is a serious concern for us and the future of our family.
We have invested in our property with this in mind. We have hot water and PV solar panels on our roof. Our main fuel is wood which we obtain from our own and neighbours hedgerows and which we process ourselves. We would have liked to have a turbine on our property but we live in a deep valley. We encouraged and supported our farmer neighbours to have a 50 kilowatt turbine installed at the top of the hill. This turbine produces an income for the farm through rental but is not community owned.
Another neighbour, Gwyn Davies, Troed y Bryn, can see this turbine from his house and we were delighted that he was keen to have one on his land. It meant that, this time, not only would his farm benefit but also local people, like us, will be able to get a good return from an investment through the Small Wind Co-op. The village will also be able to apply for grants from the community funded project.
Climate change is a fact and how much it will affect our descendants will depend on action we take right now. These projects will only have a small affect on carbon emissions but they send a clear message of our intention to take care of the future of this planet. I hope our new PM will hear that message and steer the energy policy back towards renewables.
While there have been objections by a few locals to the turbine, I hope that they will come to accept the urgency to tackle climate change and now that planning approval is settled, will join in the community project and seize the opportunity to make a good return on an investment.
It was great to see that we have been linked to another similar project in Scotland, not only from an environmental standpoint but also making investment more secure. While many local people have invested along with us it would be impossible to raise the funds locally for the whole project. It is heartening to see hundreds of like-minded investors across the country and even abroad supporting the scheme. The Bank of England's statement yesterday of another cut of the interest rate only highlights the fact that this is a canny investment, good for our farmer friend, good for our village and very good for our planet.