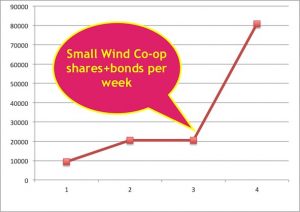 We're very happy to see that our share offer is picking up  – after a slow start we are on the verge of the 25% mark despite the many distractions in the news – and the other interesting community energy projects also out there. Many thanks to the 65 prospective members who have subscribed for sums of between £100 and £50,000. We're finding lots of people are using our crowdfunder website which is very quick and easy to use – others are sending us paper application forms which is great as well.
In the interim we have been busy making sure all the planning conditions are discharged and that everything is in place for installation – we have until April next year to be up and running but plan to be ready with plenty of time to spare – we want to be powered by the weather, not racing it!
A small reminder that the share offer ends in just under 2 weeks, so please do send in your applications on time – we always seem to see a late rush and we're sure this project will be no exception. As ever, we welcome any enquiries on our freefone number 0800 043 4133.
Share offer picking up speed