We were very pleased to be featured in the Guardian this weekend in a good article about low-carbon investments. We think the Small Wind Co-op might be one of the easiest ways to do this – no new bank account to set up, and a simple application form.
It was great to get to the 30% milestone today – it's going to be tight with a week to go, but our momentum is continuing to build – we now have 86 supporters who have bought either shares or bonds. Due to a technical issue on the crowdfunder website bond sales are currently only possible through our application form direct to the Small Wind Co-op (in the share offer document download) but you can buy shares in any amount from £100 to £100,000 via our Crowdfunder site.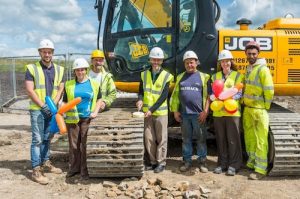 We're hard at work behind the scenes making sure the project is cracking onwards – from working with the turbine manufactures to putting some of the last legal documents in place and doing more to define the Scottish community fund. We are even working on a new turbine site for the new year – watch this space!  Meanwhile our Leila Sharland attended a 'summit' of other Welsh wind co-ops, meeting representatives of Carmarthenshire Community Energy and  Awel Co-op who are also running share offers currently, new group Granell Community Energy and Bro Dyfi Community Renewables who started off the community energy movement in Wales back in 2003. As you can see, there's some serious machinery on Awel's site installing foundations – we will be following later in the summer.
Small Wind Co-op in national press