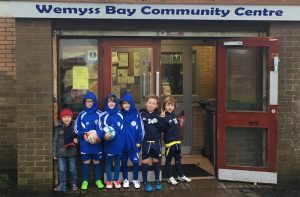 The Skelmorlie Community Sports Club, Wemyss Bay Community Association and Inverkip Community Initiative are all set to benefit from the project's community fund. We've also made a donation to South Seeds in Glasgow to support its work increasing energy awareness and helping people learn more about growing food and reducing waste.
Wemyss Bay Community Association runs the local community centre and organises events such as switching on the Christmas Lights. It plans to use its share of the community funds to set up a much-needed youth club on Friday evenings at the community centre.
Beth Macleod, chair, Wemyss Bay Community Association said: "Our aim is to provide a nurturing environment under supervision where young people can express themselves; providing them with a safe space to go, especially during the winter months. We've been planning this a long while and the funding from the wind turbines will help the youth club to get off the ground and sustain it over time."
Skelmorlie Community Sports Club is an umbrella organisation representing various village associations. It is currently progressing the building of a multi-use games area for use by all the associations in the village and the local school. It has already received funding from groups like Sportscotland, Ayrshire LEADER, Moffat Trust, North Ayrshire Council and funds raised by the village community. It plans to use the annual contribution from the Small Wind Co-op to help with ongoing maintenance costs and the eventual replacement of the playing surface.
Kevin McMunn, Chairperson, Skelmorlie Community Sports Club, said: "The new games area will be a real focus for the village and the local community; it will hopefully get kids away from their TVs and computers to become more active, fit and healthy. We really appreciate the annual contribution the wind turbine funds will make to ensure its future viability."
Inverkip Community Initiative has been set up to oversee the design, construction and running of a new community centre in Inverkip.
The Wemyss Bay turbines will generate a benefit fund of £3,000 a year, index-linked, which will be split equally with each of the three groups receiving £1,000 a year for the first three years of the turbines' operation.
Leila Sharland, Community Renewables Adviser, Sharenergy, said: "We're very pleased that the community funds will be used to support these projects which will strengthen the local community in the area around the turbines bringing benefits to people of all ages and wide-ranging interests."
Work is already underway on building the Scottish turbines following the successful launch of the project this summer which raised over £1 million. Phase 2 of the share offer is also going well so if you're thinking of joining us don't wait too long – the offer closes on December 2nd or earlier if it's fully subscribed. For all the details download our share offer document or call 0800 043 4133 for a hard copy.
Inverclyde community groups in line for benefit funds