The Small Wind Co-op has extended its share offer deadline to 16 Dec and reduced the total target to £450,000. We are also introducing gift subscriptions – the perfect Christmas present. A turbine is a bit too big to wrap so the lucky recipient will get a gift certificate instead – which they can exchange for a full share certificate after Christmas. You can buy gift shares online and it only takes minutes – see our Gift Shares page for the application form.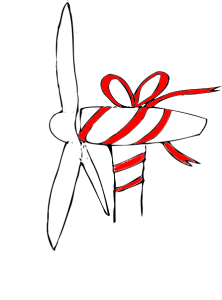 The reduction in total target has come about because we have been obliged to change the turbine model we are using on our Welsh site. Sadly our chosen provider, Endurance Windpower, have gone into receivership but we are very pleased to say that our installers have managed to source us a refurbished Vestas V27 turbine as a replacement. These are very well-known workhorse turbines and although we will need to budge a little more for servicing we have been able to keep the overall projected member return for the Small Wind Co-op at 6.5%. The V27 is also considerably cheaper than the Endurance model, hence the lowering of our share offer target to £450,000.
Our second share offer remains open, with a modified Share Offer Document to reflect the change in turbine model and the reduced overall target. We are also extending the share offer deadline to 16 Dec for those last-minute Christmas gifts and to give us a bit more time to raise the £300,000 we still need to complete the financing of both sites.
Share offer extension and a new way to buy shares as a gift